Click on photographs to enlarge - then click back to return.
Over the last 6 years Bay Wind has been analyzing the potential of wind power generation in Annapolis, Digby and Yarmouth counties and addressing issues related to the siting of industrial class wind turbines.

Bay Wind has worked closely with partner RESL to determine the suitability of wind power test sites in the Digby area. Locations were chosen on the basis of:


Results of the core wind screening data acquired over four years.
Moderate to good wind characteristics suitable for a Class II wind turbine.
Proximity to market.
Dual land use.
Remote location, minimum impact.
Scalable sites.
Shared infrastructure.
Access to land.
Potential for expansion.
Proximity to the distribution and transmission system.
A site was chosen at the old Digby watershed on Mt. Pleasant which met RESLís criteria for an exploration wind turbine. This site has good wind attributes, and potential for development of a
limited wind farm should the exploration phase prove promising.

After many steps, including securing a land lease, getting town council approval, completing designs for the electrical system, completing foundation and impact studies, as well as taking core samples, road work was begun by early 2006. At last, construction and commissioning of the wind turbine was completed in December 2006. Now the wind turbine supplies power to 300-350 homes, mostly in the Digby area.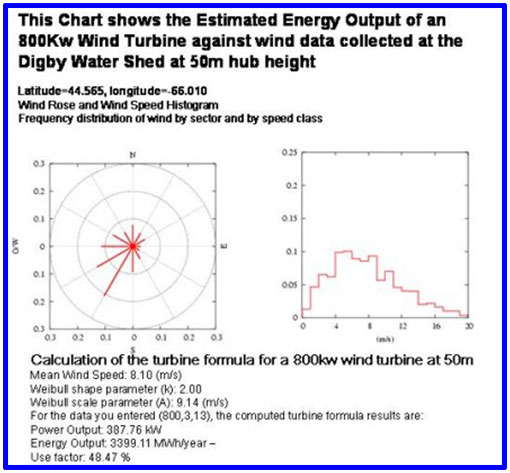 |
---